Help build a more literate community - help build dreams!
Although a successful accountant in Mexico, Anayeli moved to the U.S. to pursue a better quality of life. When she came to the U.S., she did not know any English. This hindered her ability to obtain a job. She enrolled at LFA to improve her English skills. Her studies at LFA boosted her confidence in English and allowed her to obtain two jobs and fulfill her other academic goals. Even with her busy lifestyle, Anayeli was committed to attending ESL classes with LFA. "Sometimes, I have to stay up until one or two in the morning to get everything done." Her consistent attendance proved how responsible she is about her education. In the time Anayeli has been with LFA, she's moved from beginner to intermediate level and is now taking advanced level ESL courses. Now with much improved English literacy skills, Anayeli hopes to go back to college to earn her degree in accounting and work as an accountant in the U.S. She expressed her gratitude to LFA by stating, "I've learned a lot in class. My teachers and classmates are great, and I know that everyone at LFA is working to help each other."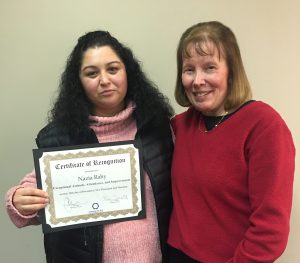 Your Gift Makes a Difference!
Your gift will go to support the operations of our center and allow our staff and volunteers to serve the needs of adults seeking support to gain basic literacy skills, learn English as a second language, prepare for the GED test to earn their degree, and find and keep meaningful employment. Your gift will allow individuals in our community to improve their lives and work towards more significant opportunities for self-sufficiency.
At this time this option is available for androids only. 
Please enter your donation amount
Sending Your Donation By Mail
Please download the Donation Form below, fill it out, and send to:
Learning for ALL
6001 Dodge Street, CEC 117B
Omaha, NE 68182